Northshore Family,
I hope this finds you well and enjoying what is already a very unique summer.
While we haven't been able to resume ministry on campus yet, there are some upcoming opportunities to celebrate the life-change that God has been doing lately, and to be together on campus for select events. We are having a baptism celebration on July 26. If you haven't been baptized, don't miss this chance. You can find out more about baptism, as well as other events with our Kids, Students and Group Life ministries at northshore.church.
In terms of when we plan to resume ministry on campus, I want to remind you of the four values that are guiding our decision-making process, which I shared a few weeks ago:
First,  Northshore has never actually been closed. We've been doing more ministry and reaching more people than ever before.
Second,  we want to resume ministry on campus only when we can do so effectively for those who are growing in or exploring faith.  
Third,  we want to improve, not damage, our relationship with our neighbors, and our witness to the surrounding community.   
Fourth and finally, regardless of how and when we resume ministry on campus,  we want to come back together in a spirit of grace and unity.  
Based on these values, we've created a four-phase plan for how to resume ministry on campus. You can see what ministry will look like in each phrase in the graphic below. We are currently in Phase 2.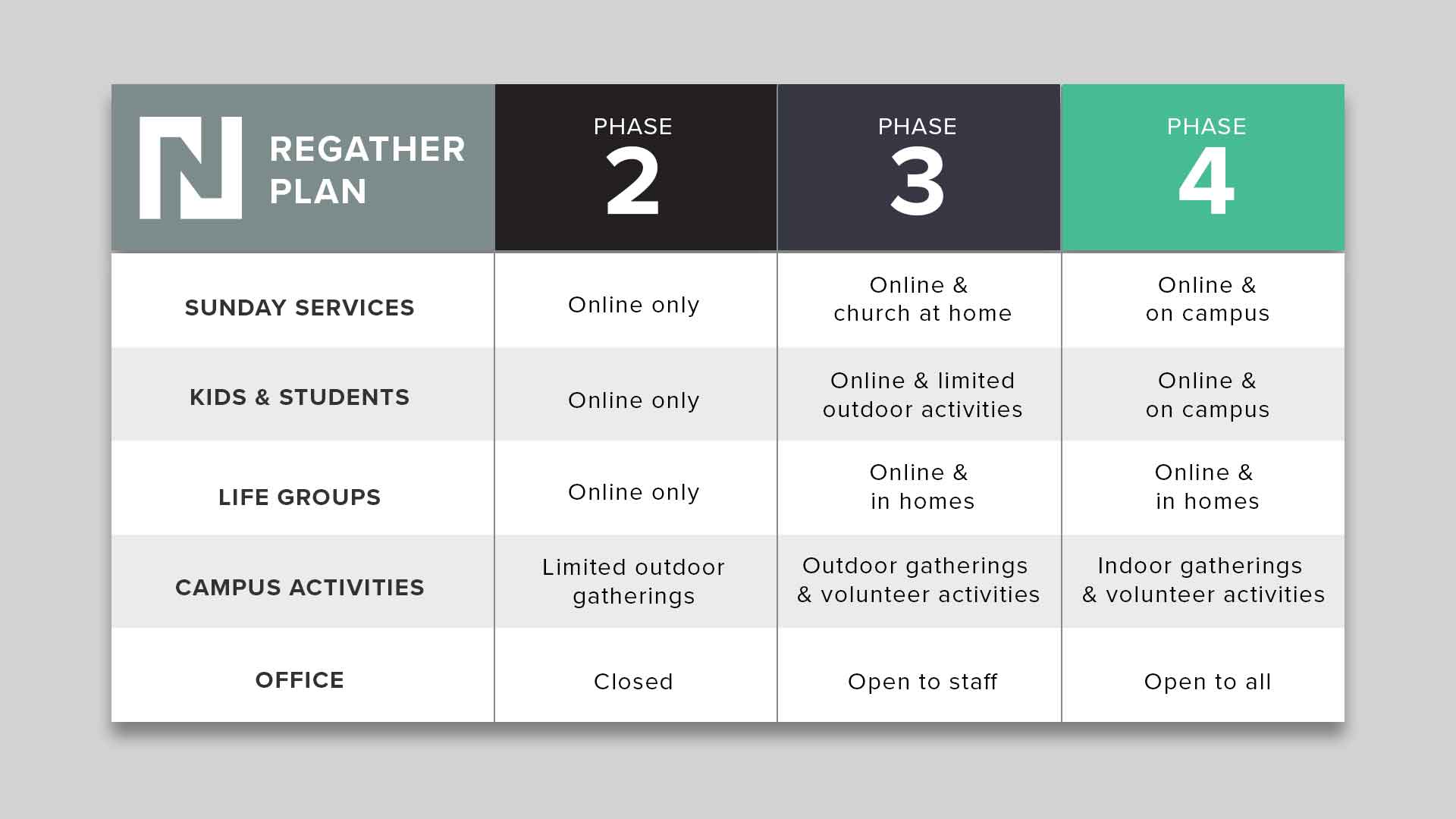 When we reach Phase 3, we will start promoting Church at Home! It's a time to gather together wherever you live, with other people, to watch Northshore Sunday services, connect with God through worship, and have meaningful conversations. We will share more information on Church at Home and how you can start one as we get closer to Phase 3, but we hope you'll begin looking forward to them now!
We also need your input about how and when you'd be comfortable coming back to the church campus, so we've created a short survey where you can share your thoughts and feedback. It will only take a few minutes and will be a tremendous help. Just click on the button below.
As always, if you have any questions or concerns, don't hesitate to reach out. You can also visit  northshore.church/coronavirus for regular updates.
I love and miss you!
Blessings,
Scotty